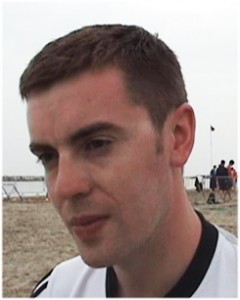 Gary Campbell Grieve is from Scotland and a Youth officer with the International Sport and Culture Association (ISCA) and assist the Youth Network coordinator of ISCA.for the activities provided to 18 to 30 years old people. He was invited to the Rimini Tchouball Beach Festival to discover the sport of Tchoukball.
In this interview Gary tell us about the mission and activities of ISCA, he expresses his feelings about the atmosphere of the Beach Tchoukball Festival, and how  surprised he was about the "competition". He talks about his experiences and feelings during the Festival. Gary explains how he sees the promotion of the game, and the relationship we could create with ISCA.
You can contact Gary Grieve by e-mail at: gg@isca-web.org
www.isca-web.org
Phone: + 45 5 118 7389
Next episode: Janet Darnell, Physical Education Teacher, of Ohio, USA.