Warning
: Undefined property: stdClass::$height in
/home/clients/a8ee56034ba4eb83b1fa9db460a4c8dd/TBonfire/wp-content/plugins/embedplus-for-wordpress/embedplus.php
on line
251
Jitka leave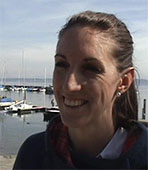 s in Jicin, called the Czech Paradise, she is married to Stepan and they have a 3 years old boy. She is a lawyer by training. She is the General Secretary of the Czech Association of Tchoukball, which was established in 2011. The association is running an annual Championship which includes 10 teams.
In 2005, she discovered Tchoukball throughout her husband who is a physical education teacher. She is a formal basketball player and she immediately fell in love with the game.
She and her husband immediately started the association to promote the game in Czech Republic.
In this interview, Jitka explains to us how she discovered Tchoukball, the original strategy to promote the game throughout the country, and how the game is developing in Czech Republic.
You can reach Jitka by e-mail: Jitka.vele(at)tchoukball.cz
www.tchoukball.cz
Next episode: Steve Abreu, of the USTBA, Boston, USA