How Tchoukball Spread Out Internationally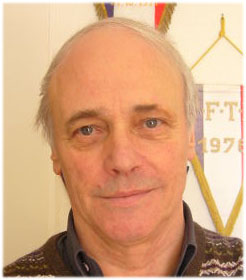 HOW TCHOUKBALL SPREAD OUT INTERNATIONALLY
You can watch the video podcast (in French with English subtitles) below or on Tchoukball USA Channel.
Michel Favre is the co-inventor of Tchoukball. He had the good fortune to meet Dr. Hermann Brandt, and worked with him to establish the game, brainstormed and helped write the Tchoukball Charter.
Michel actually is retired and lives in Cernier, Switzerland. He is certified as an National football (soccer) instructor by the Federal School of Macolin. He trained young football talents before moving to Tchoukball. He also trained numerous Tchoukball players in Cernier, some of whom were picked up to be part of the Swiss National teams. However, Michel has always been interested in doing a good and appropriate training, and this is how he met Dr. Hermann Brandt, the inventor of Tchoukball.
In this interview, Michel explains how he met Dr. Hermann Brandt, how Hermann invented Tchoukball, and how the Tchoukball Charter was set up. He also explains how he was able to promote the game in Switzerland when Dr. Hermann Brandt passed away, and how the game spread out nationally and internationally with the help of John Andrews. Michel also describes why and how the sport has been promoted in more than 30 countries around the world. Michel takes also this opportunity to send a message to the Tchoukball community, which according to him is important in order to keep the spirit of the game alive.
You can contact Michel Favre by e-mail at: allal@bluewin.ch
Rue Calame 1a
CH-2053 Cernier
Phone: +41 79 332 2970
Note: Michel speaks only French
Next episode: Chiara Volonte, President of the Italian Tchoukball Federation (FTBI), and Vice-President of the International Tchoukball Federation (FITB).