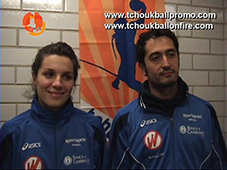 On December 1st, 2013, took place the first day of the Italian Tchoukball Championship 2013-2014 Serie B, in Perugia, Italy.
Giulia Lombardi a player of Wallers Empoli, and Fausto Berni President of the Wallers, Empoli, agreed to be interviewed.
Fausto discovered Tchoukball in 2006, during his summer vacation on Elba Island, and when back home he started Tchoukball in Empoli, first in school, and fortunately later a group of youths decided to play the sport.
Giulia discovered the sport in high school, she had played water polo for 13 years. One time, a friend invited her to attend a tournament to see the game, and she saw girls playing the game among male players then she decided to participate to the training and start playing the game,
In this interview, Fausto explains what it takes to develop and promote the game in a country where football (soccer) is the main stream sport. Giulia explains to us, what would be her recommendations for someone who wants to try it.
You can contact Giulia at: g.lombardi(at)wallers.it and Fausto at: f.berni(at)wallers.it
www.wallers.it
Facebook page at: Facebook.com
Next episode: Muriel Summer Vorpe, Head of Youth & Sports Tchoukball (J+S), of Switzerland